WHITEFORD Bethel University Excess Executive Office Furniture, iPad, iPhone, iPod & Equipment Part 2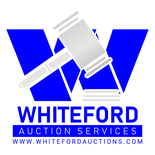 Whiteford Auction Services
Auction Location: 2 Pine Tree Dr, Arden Hills, MN 55112 / Phone: 612-590-3748

Household, Estate & Personal Property, Commercial & Industrial
FOR TODAYS INSPECTION PLEASE GO TO THE LOADING DOCK AREA TO ENTER. FOLLOW SIGNS. SEE Y'ALL THERE!!!
Whiteford Auctions presents Part 2 of 2 of this great auction filled with everything you need to furnish your corporate or home office, reception area, business, school, and even home. There are very expensive Executive Suites and Desks, High-End Office Furniture and Chairs, iPad, iPhone, iPod, Bookcases, Decor and a whole lot more! Many different styles and colors to fit anyone's preference! Some of these desk suites were over $4,600. The load-out on this auction is on the same end of the building as the dock, as well as on the same floor as the dock, so it's a lot closer than the last auction. There are many large and heavy items in this auction, so please plan accordingly to bring plenty of your own help, dollies, and any tools necessary to disassemble, as there will not be additional help or materials on site to help remove your items. There is a loading dock with a dock lift. As always, Whiteford Auctions and it's staff have done our very best to represent and describe the items as accurately as possible, based on our research and knowledge. Please remember, it is your responsibility as the bidder to verify and inspect in order to determine for yourself, prior to bidding. Thank you for taking the time to view our auction. Have Fun, and Happy Bidding!!
We accept Cash or Credit Cards up to $4,999 per transaction.
Pick up date only for the date given.
There are many large and heavy items in this auction, so please plan accordingly to bring plenty of your own help, dollies, and any tools necessary, as there will not be additional help or materials on site to help remove your items. There is a loading dock and freight elevators. Please be patient as the space is limited.
Inspection:
| | |
| --- | --- |
| Tue, Sep 04, 2018 | 03:00 pm - 04:30 pm |
Auction Closing:
| | |
| --- | --- |
| Wed, Sep 05, 2018 | 06:30 pm |
Removal:
| | |
| --- | --- |
| Fri, Sep 07, 2018 | 09:00 am - 05:00 pm |
Bidding Increments:
Range
Increment
$0.01
-
$75.00
$1.00
$75.01
-
$150.00
$5.00
$150.01
-
$250.00
$10.00
$250.01
-
$500.00
$25.00
$500.01
-
$1,000.00
$50.00
$1,000.01
-
$5,000.00
$75.00
$5,000.01
-
$50,000.00
$100.00
$50,000.01
-
$75,000.00
$250.00
$75,000.01
-
$100,000.00
$500.00
$100,000.01
-
$2,500,000.00
$1,000.00
Buyer's Premium
| Hammer Price Tier | Buyer's Premium | Cap |
| --- | --- | --- |
| $0.00 - $4,999.99 | 13.00% | |
| $5,000.00 - infinity | 10.00% | $1,000.00 |
This a auction is contracted and managed by: Whiteford Auction Services
Manager: Jeff Whiteford
No Early or Late Preview Or Remove will be allowed. The Only Preview time available is Displayed at the Bottom of each Bid Page for the Auction. A Whiteford Auction Representative Must Be Present for Preview and Removal. A $40.00 Trip Charge will be Added to any Invoice that Requires a Staff Member to Return to the Sale Site Before or after the Preview or Removal Times. As with all K-BID.com Auctions, The Buyer is responsible Inspecting All items prior to Bidding and Safe, Neat Removal and Loading of the Items. Please bring Help, Tools and the Proper size equipment or Vehicle to Haul your items. Auction Staff is available Onsite to Help FIND Your Items. They Are NOT FREE Loading Labor!!! IF you Need Help Loading and "if" there is auction staff available a Fee of $20.00 to $50.00 per Item dependent on Size, Weight and Location. Auction staff is not always available so please plan on bringing your own help. This does not include large or heavy items those items you must be prepared to bring your own help and equipment to remove. Items must be paid for by the pick up date. Any item(s) not picked up on the scheduled day will not be held by the auctioneer unless arrangements were made before auction close. Most auctions are held on site at our clients location so we will not take responsibility for items not picked up on the scheduled date even if they were paid for.
---
This auction is contracted and managed by an independent affiliate. By placing a bid on this auction, you are agreeing to the auction specific terms listed on this page in additions to the K-BID user terms and agreements.
K-BID Online, Inc. (K-BID) is responsible for maintaining the K-BID.com website. K-BID.com serves as the venue used by independent auction companies (Affiliates) to present their online auctions to bidders.
K-BID's role in the auctions listed on K-BID.com is limited to providing the venue for affiliate auctions. Affiliates are not employees, agents, representatives or partners of K-BID Online, Inc. K-BID's knowledge about individual auctions and individual auction transactions is limited to the information appearing on the website.
By placing a bid on K-BID.com, bidders are verifying they are at least 18 years old and acknowledging they understand and will comply with both the K-BID.com website terms and the auction specific terms. Bidders MUST NOT share their password or account information with anyone. Bidders are responsible for bids placed on their account.
Inspection dates/times are available for every auction. Bidders are strongly encouraged to inspect prior to placing bids. Removal day is not inspection day. When an auction ends, and the winning bidder invoice appears on the bidder's dashboard, the bidder is obligated to honor their bid(s).
Every auction item is sold "as is, where is" with no guarantees or warranties. You are responsible for inspecting items prior to purchase.
Bidders are responsible for knowing and complying with auction terms. Failure to comply with removal terms may result in bidding privileges being disabled. Once a bid is placed it cannot be retracted.
Sellers and their agents are prohibited from bidding on their own assets.
Items with a reserve will not be sold unless the reserve price has been met.
At the close of the auction, active items will remain open until no bids have been received for three minutes.
Applicable sales tax will be collected by the affiliate managing the auction.
In the event that bidding rights are terminated due to no-show invoices, bidders MAY be reinstated at the discretion of K-BID only after a penalty fee of 20% of the unpaid invoice(s) and a reinstatement fee of $25.00 has been paid to K-BID and a scanned copy of your driver's license emailed to us. INVOICED ITEMS WILL NOT BE AWARDED. The payment is punitive and meant to deter no-shows. Duplicate bidder accounts will be deactivated when they are determined to exist. If possible and at our discretion, K-BID reserves the right to delete any bid we believe has been placed by a suspect bidder. Any registration that shows up on our fraud detection system may be placed on hold and bids removed until the user is verified. K-BID Online, Inc reserves the right to disallow anybody from bidding on its website. Cases of obvious bidding with no intent to redeem will be referred to appropriate legal authorities.
Affiliates may lower a lot reserve at any time before or after an auction closes. If the reserve is lowered while the auction is in progress, the applicable reserve message will appear below the Next Required Bid information (Reserve Not Met or Reserve Has Been Met); the asset will sell to the high bidder if the lowered reserve amount is met. If the reserve is lowered after the auction closes, the highest bidder at auction close will receive a winning bidder invoice.
Once an auction begins its closing process, outbid notifications will not be sent.
Once a bid is placed it cannot be retracted.
2 Pine Tree Dr
Arden Hills
MN, 55112

612-590-3748

45.0463193000

,

-93.1549587000



Winning bidder is responsible for inspecting prior to purchase. Failure to pay for and pick up items may result in loss of bidding privileges. There is a shipping company who has agreed to ship items. Shipping for small lots only (no "contents lots" or large items) PLEASE CALL Jeff at 612-590-3748 the day before pickup if you want your items shipped. We may be too busy the day of pickup to take payment on shipped items. Shipping will have a $10.00 courier fee plus shipping and handling cost from the UPS store. You will pay the UPS store directly for shipping and pay us for your auction item and the courier fee. All sold as is with no guarantees so please inspect. Please bring your own boxes to pack your items. We try our best to accurately describe every item however if there is a discrepancy between the lot pictures and the description we will use the description. Please bring your own boxes for packaging. Bidders responsibility to test all electrical items.