Lot # 53
Brand New Master Craft 3500 Peak/3000 Running Watt ...
29027 132nd Street, Waseca, MN 56093 / Phone: 507-345-8042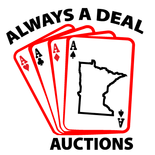 View All Images
Brand New Master Craft 3500 Peak/3000 Running Watts Portable Gas Generator
Lot # 53
No matter the job, large or small, Master Craft has the tools, power equipment and accessories you can depend on time and again. From home improvement projects to day-to-day professional use, Master Craft gets the job done and delivers great value. This powerful gas generator will power major appliances and other devices at the same time. Its compact size, light weight and mobility make it ideal for contractors, camping, cottages and boats – wherever portable power is needed!
Gas powered
3500 watts peak/3000 watts running
7 HP OHV, 208cc engine
15 hours run time at 50% load
Two 120V outlets, two 12V DC outlets
Pull start
Low-oil shutoff
Overload protection
4-gallon tank capacity with fuel gauge
69dB noise level
Includes 8" wheel kit
Assembly required
Approx. 23-1/2"L x 17-1/4"W x 18"H; weighs 98 lbs.
Limited warranty
EPA approved and CARB certified
Condition: New, FACTORY SEALED package.
This item ships for a flat $50.00
Save on Shipping When You WIN More: Take 50% Off ALL shipping charges when you win 4 or More Shippable Lots!

Please Contact James Adams @ 507-345-8042 with any questions regarding this auction, for payment & shipping arrangements or to set up an inspection.
PLEASE NOTE OUR NEW LOCATION: 29027 132ND ST WASECA, MN. 56093.
Located 6 miles south of U.S. HWY 14 in the community of Otisco on MN HWY 13. Follow the signs to our building in town. Look for the K-bid & Auction banner on the road-side of the building and come up stairs to the front door.
Preview & Inspection: Inspection is available on the scheduled inspection day. We encourage you to visually inspect these items for your own clarity!
Applicable Minnesota Sales Tax will be collected. The sales tax rate is 6.875%.
****Always A Deal Auctions offers a 48 Hour Guarantee on all items we list. 48 Hour Guarantee Terms: All items sold on this auction are guaranteed for their 'Functionality Only', for 48 hours from the time of pick up or delivery, whichever comes first. After that 48 hours the guarantee is null and void.
If there are any claims under the 48 hour Guarantee, Always A Deal Auctions MUST be notified within 48 hours of pickup or delivery, either by phone or walk-in.
Do Not Contact K-Bid as we are an Independent Affiliate.
The merchandise MUST be returned or shipped back within 48 business hours of notification for inspection. We will cover return shipping charges.
This Guarantee is for the functionality of the item ONLY and not the cosmetic condition, look, or general condition.
Please see description for included accessories, we do not guarantee accessories and parts that are not listed in the lot description or items with damage already noted in the description.
We are also NOT responsible for any damage or injury caused by this item. Preview recommended.
Please Contact James Adams @ 507-345-8042 with any questions regarding this auction, for phone payments & shipping, to set up an inspection or in regards to the 48 hour guarantee.
Inspection:
| | |
| --- | --- |
| Thu, Dec 07, 2017 | 10:00 am - 05:00 pm |
Auction Closing:
| | |
| --- | --- |
| Thu, Dec 07, 2017 | 07:50 pm |
Removal:
| | |
| --- | --- |
| Fri, Dec 08, 2017 | 10:00 am - 06:00 pm |
| Sat, Dec 09, 2017 | 09:00 am - 04:00 pm |
Bidding Increments:
Range
Increment
$0.01
-
$75.00
$1.00
$75.01
-
$150.00
$5.00
$150.01
-
$250.00
$10.00
$250.01
-
$500.00
$25.00
$500.01
-
$1,000.00
$50.00
$1,000.01
-
$5,000.00
$75.00
$5,000.01
-
$50,000.00
$100.00
$50,000.01
-
$75,000.00
$250.00
$75,000.01
-
$100,000.00
$500.00
$100,000.01
-
$2,500,000.00
$1,000.00
This auction is contracted and managed by Always-A-Deal.

This affiliate accepts Cash, Visa, Mastercard, Discover, American Express. No Checks will be accepted. If you don't bring an accepted payment you will be turned away.

Applicable Minnesota Sales Tax will be collected. The sales tax rate is 6.875%.

All items won need to be paid for and picked up or paid for and shipping arrangements made on the removal date. If you need extra time to pick up your items, please call on the removal date and make your payment; we will hold your items for up to 7 days after the items have been paid for in full. If the items are not picked up within that 7 days after payment, you will have forfeited your purchase and we will donate those items. Please don't bid on these items unless you are willing to pay for and remove the items you win. No Show bidders will be noted and their bidder numbers suspended.

By placing a bid on this auction you are agreeing to the auction specific terms listed below in addition to K-BID user terms. For auctions contracted and managed by an Independent Affiliate, K-BID Online, Inc. is acting as a venue only and will not be involved in any disputes or issues regarding this auction.

There is a 13% BUYERS PREMIUM (13% BP) on this auction. All NON-Credit/Debit Card payments MADE IN-FULL (invoiced amount) will receive a 3% Reduction in BUYERS PREMIUM (10% BP).

Applicable Minnesota Sales Tax will be collected.

At the close of the auction active items will remain open until no bids have been received for three minutes.

IMPORTANT NOTE: If the high bidder of an item does NOT acknowledge the purchase, K-BID systems reserves the right to determine how and to whom it will be resold. If we determine that the winning bid was not a bona fide bidder, the item WILL NOT AUTOMATICALLY go to the next second-highest bid.
---
K-BID Online, Inc. (K-BID) is responsible for maintaining the K-BID.com website. K-BID.com serves as the venue used by independent auction companies (Affiliates) to present their online auctions to bidders.
K-BID's role in the auctions listed on K-BID.com is limited to providing the venue for affiliate auctions. Affiliates are not employees, agents, representatives or partners of K-BID Online, Inc. K-BID's knowledge about individual auctions and individual auction transactions is limited to the information appearing on the website.
By placing a bid on K-BID.com, bidders are verifying they are at least 18 years old and acknowledging they understand and will comply with both the K-BID.com website terms and the auction specific terms. Bidders MUST NOT share their password or account information with anyone. Bidders are responsible for bids placed on their account.
In the event that bidding rights are terminated due to no-show invoices, bidders MAY be reinstated at the discretion of K-BID only after a penalty fee of 20% of the unpaid invoice(s) and a reinstatement fee of $25.00 has been paid to K-BID and a scanned copy of your driver's license emailed to us. INVOICED ITEMS WILL NOT BE AWARDED. The payment is punitive and meant to deter no-shows. Duplicate bidder accounts will be deactivated when they are determined to exist. If possible and at our discretion K-BID reserves the right to delete any bid we believe has been place by a suspect bidder. Any registration that shows up on our fraud detection system may be placed on hold and bids removed until user is verified . K-BID Online, Inc reserves the right to disallow anybody from bidding on its web site. Cases of obvious bidding with no intent to redeem will be referred to appropriate legal authorities.
Affiliates may lower a lot reserve at any time before or after an auction closes. If the reserve is lowered while the auction is in progress, the applicable reserve message will appear below the Next Required Bid information (Reserve Not Met or Reserve Has Been Met); the asset will sell to the high bidder if the lowered reserve amount is met. If the reserve is lowered after the auction closes, the highest bidder at auction close will receive a winning bidder invoice.
Once an auction begins its closing process, outbid notifications will not be sent.
29027 132nd Street
Waseca
MN, 56093

507-345-8042

43.9788613000

,

-93.5024600000



SHIPPING RATES IN LOT DESCRIPTION ARE VALID PER THE TERMS BELOW
We are happy to offer great shipping deals on this auction: Shipping for the following states MN, ND, SD, IA, WI, IL, NE, St. Louis Metro:
See individual lot descriptions for shipping charge per lot.
Take 50% off all shipping charges when you WIN 4 lots or more!
The more you win, the more you save on shipping so BID ON!
These rates DO NOT apply to PO Boxes.
All bidders residing outside the states listed or in Canada that are interested in having an item shipped please contact James @ 507-345-8042 for an estimate.
Please do not bid if you are unable to pick the item up and unwilling to pay for the item to be shipped.
Always A Deal Auctions does not ship internationally except to Canada.