Kentucky 53ft Drop-Deck Moving / Storage Trailer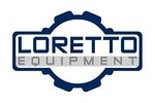 Loretto Equipment
Auction Location: 226 St. John Street, Loretto, MN 55357 / Phone: 763-742-8768

Commercial & Industrial, Heavy Equipment & Construction, Farm Equipment
WWW.LORETTOEQUIPMENT.COM FOLLOW US ON FACEBOOK!
Search Results
| | |
| --- | --- |
| Showing 1 to 1 of 1 items | |
Next Required Bid:
$3,675.00
Scheduled Close
12/04/2019
08:30 pm CST
Closed
1998 Kentucky 53ft Drop-Deck Moving / Storage Trailer
Overall Length: 53ft (43ft Dropped Deck With 10ft Upper Deck Over The King Pin)

Hinged Swing-Open Rear Access Doors
Hinged Swing-On Dual-Side Access Doors
(3) Additional Storage Compartments Under The Drop-Deck

Tire Size: 255 / 70 / 22.5 --- All In Good Condition -- Holding Air
King-Pin Semi-Tractor Trailer With Air Braking System
--Consignor States The Air Brakes Worked When Last Parked For Storage
Interior Vertical Securement Bar Tracks -- Great Foundation For Built-To-Suite Interior Storage Shelves!

Note: Replacement Door Hinges (3) Are Included For the Driver-Side Access Door
In Overall Good & Solid Condition -- The Floor Is Very Solid -- No Noticeable Walls / Roof Holes -- Its Watertight
Serial#: 112580
GVWR: 65,000#
GAWR: 20,000#
Kentucky Plate: BH10733 Good Thru: May 2011
VIN#: 1KKVE5321WL112580
Note:
--This Trailer Is Currently Parked At A Outdoor Storage Facility In Mound, MN
--Approx 15-Minutes South Of Loretto Equipment
Inspections:
Inspections Are By Appointment (Call Casey @ 763-742-8768 For Details)
Payment & Removal:
No Credit Card Payments Are Accepted For Titled / Registered Assets
CASH -- CERTIFIED CHECKS -- WIRE TRANSFER PAYMENTS ONLY FOR THIS ITEM
--After Auction Closing, The High Bidder Must First Contact Loretto Equipment To Arrange For Payment & Coordinate A Date To Complete The Title Transfer Paperwork & Etc.
--Once The Payment & Title Paperwork Is Handled & Completed, You Will Be Allowed Access To The Storage Yard To Remove The Trailer.
Contact Info:
--Casey @ 763-742-8768 (Call Or Text)
--Email: lorettoequipment@gmail.com

---
Auction Closing:
| | |
| --- | --- |
| Wed, Dec 04, 2019 | 08:30 pm |
Bidding Increments:
Range
Increment
$0.01
-
$75.00
$1.00
$75.01
-
$150.00
$5.00
$150.01
-
$250.00
$10.00
$250.01
-
$500.00
$25.00
$500.01
-
$1,000.00
$50.00
$1,000.01
-
$5,000.00
$75.00
$5,000.01
-
$50,000.00
$100.00
$50,000.01
-
$75,000.00
$250.00
$75,000.01
-
$100,000.00
$500.00
$100,000.01
-
$2,500,000.00
$1,000.00
Buyer's Premium
| Hammer Price Tier | Buyer's Premium | Cap |
| --- | --- | --- |
| $0.00 - $4,999.99 | 13.00% | |
| $5,000.00 - infinity | 10.00% | $1,000.00 |
This a auction is contracted and managed by: Loretto Equipment
Manager: Casey Homberger
ACCEPTED PAYMENTS: Cash, Good Checks, Cashier's Checks, Wire Transfers, Credit Cards.

IMPORTANT NOTE: No Credit Cards Are Accepted Over $5,000 OR For Titled / Registered Items.

NOTE: A $20 Charge Will Be Added To ALL Wire Transfer Payments

This auction is contracted and managed by Loretto Equipment.

Important Note:

Items are to be paid for & picked-up on the scheduled removal date.

Each auction has a scheduled one-day removal unless otherwise pre-approved by Loretto Equipment BEFORE the auction closes.

If a successful bidder makes payment on an item / purchase and does not pick it up on the scheduled removal date, or make arrangements for shipping, the item / purchase will be held for 14 consecutive days (The 14 days include Saturday and Sunday)

If the buyer does not remove the item / purchase in the allotted 14-days, the item / purchase will be considered abandoned and forfeited.

Loretto Equipment will reserve the right to dispose of the item as desired. No credits / refunds / reimbursements will be given for items deemed abandoned / forfeited.
---
This auction is contracted and managed by an independent affiliate. By placing a bid on this auction, you are agreeing to the auction specific terms listed on this page in additions to the K-BID user terms and agreements.
K-BID Online, Inc. (K-BID) is responsible for maintaining the K-BID.com website. K-BID.com serves as the venue used by independent auction companies (Affiliates) to present their online auctions to bidders.
K-BID's role in the auctions listed on K-BID.com is limited to providing the venue for affiliate auctions. Affiliates are not employees, agents, representatives or partners of K-BID Online, Inc. K-BID's knowledge about individual auctions and individual auction transactions is limited to the information appearing on the website.
By placing a bid on K-BID.com, bidders are verifying they are at least 18 years old and acknowledging they understand and will comply with both the K-BID.com website terms and the auction specific terms. Bidders MUST NOT share their password or account information with anyone. Bidders are responsible for bids placed on their account.
Inspection dates/times are available for every auction. Bidders are strongly encouraged to inspect prior to placing bids. Removal day is not inspection day. When an auction ends, and the winning bidder invoice appears on the bidder's dashboard, the bidder is obligated to honor their bid(s).
Every auction item is sold "as is, where is" with no guarantees or warranties. You are responsible for inspecting items prior to purchase.
Bidders are responsible for knowing and complying with auction terms. Failure to comply with removal terms may result in bidding privileges being disabled. Once a bid is placed it cannot be retracted.
Sellers and their agents are prohibited from bidding on their own assets.
Items with a reserve will not be sold unless the reserve price has been met.
At the close of the auction, active items will remain open until no bids have been received for three minutes.
Applicable sales tax will be collected by the affiliate managing the auction.
In the event that bidding rights are terminated due to no-show invoices, bidders MAY be reinstated at the discretion of K-BID only after a penalty fee of 20% of the unpaid invoice(s) and a reinstatement fee of $25.00 has been paid to K-BID and a scanned copy of your driver's license emailed to us. INVOICED ITEMS WILL NOT BE AWARDED. The payment is punitive and meant to deter no-shows. Duplicate bidder accounts will be deactivated when they are determined to exist. If possible and at our discretion, K-BID reserves the right to delete any bid we believe has been placed by a suspect bidder. Any registration that shows up on our fraud detection system may be placed on hold and bids removed until the user is verified. K-BID Online, Inc reserves the right to disallow anybody from bidding on its website. Cases of obvious bidding with no intent to redeem will be referred to appropriate legal authorities.
Affiliates may lower a lot reserve at any time before or after an auction closes. If the reserve is lowered while the auction is in progress, the applicable reserve message will appear below the Next Required Bid information (Reserve Not Met or Reserve Has Been Met); the asset will sell to the high bidder if the lowered reserve amount is met. If the reserve is lowered after the auction closes, the highest bidder at auction close will receive a winning bidder invoice.
Once an auction begins its closing process, outbid notifications will not be sent.
Once a bid is placed it cannot be retracted.
226 St. John Street
Loretto
MN, 55357

763-742-8768

45.0563428000

,

-93.6378052000



No shipping is available for this auction