Warehouse Boutique- NEW: HP Computer, Shark, Nintendo Switch, Mic, Projector, Cricut, Nest, WiFi, Sewing Machine, Sony, FoodSaver. Purses Galore, Beam Decanters, Depression Glass, Dolls, Boyd's Bears, Knick Knacks, Shoes, Jewelry, Clothing, Plus More!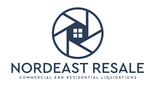 Filtered Results From This Auction:
---
This Blaine Warehouse is bursting at the seams with new items, Sticker Collection, household decor, women's accessories, collectibles and handcrafted items galore!
↓↓↓ Here's a far from exhaustive rundown on what you can expect to find ↓↓↓
-NEW: HP Desktop Computer, Shark DLX Vacuum, Nintendo Switch Lite, Singer HD Sewing Machine, Gaming Microphone, Projector, Google Nest Audio, Nest Mini, Cricut Easypress Mini, Cricut Explore Air 2, Cricut EasyPress 2, FoodSaver VS3110, Netgear Orbi WiFi System & Sony Multi Channel AV Receiver.
-Collectible Vintage Liquor Decanters: Over 100 decanters from Jim Beam Trophy, Old Cabin Still, Barsottini, Dant, and more!
-PURSES! Over 760 Women's and Children's purses, cross body, clutch, evening bags, handbags, and wallets!
-Stunning Vintage Jewelry: Organizers, Earrings, Necklaces, and everything in between.
-Gorgeous and Comfy Women's Shoes and Slippers, Scarves, Clothing, and other accessories.
-Vintage Collectible Figurines: Holly Hobbie, Boyd's Bears, Zinger Berry, Lefton, Brinns, includes some religious themes for Christmas, Easter, and more.
-Beautiful Home Decor: Vintage Depression Glass, butterfly trays, silk floral arrangements, throw blankets, baskets, trinkets, display shelves, etc.
-Vintage Collectible Dolls: Cabbage Patch, porcelain, paper dolls, holiday themes, and so many more!
-Vintage Collectible Stuffed Animals: Winnie the Pooh, Teletubbies, Teddy Bears, Bunnies, Trolls, and others!
-Books: Self-Help, American History, devotional, hardcover, and a variety of others.