JAX of Benson Sale #639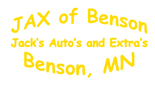 JAX of Benson
Auction Location: 1615 Minnesota Ave, Benson, MN 56215 / Phone: 320-444-2303

Vehicles & Marine
This sale has 3 very nice clean 1 owner campers, 1 5th wheel, 1 tent trailer, 1 bumper hitch. All 3 are ready to go.
Search Results
| | |
| --- | --- |
| Showing 1 to 3 of 3 items | |
Next Required Bid:
$7,200.00
Scheduled Close
10/16/2017
06:15 pm CST
Closed
2009 North country 27 BHS
VIN: 5SFEB30249ED202551
Reg. RU21351
Features: This unit has a wide open floor plan with a nice living area with sofa and swivel rocker. Stereo sound system through out, Central A/C and furnace. A full compliment of appliances in the kitchen area with stove top and oven, microwave, fridge and freezer and a booth style dinning area. The bunk area has a full size bunk on bottom and single bunk up top., with storage under neath lower bunk. The private bathroom has a sink, commode, and shower/tub. Up front is a queen size bed with plenty of storage below plus cabinets and closets through out the unit. It has a full length awning, 2 30# LP tanks and lots of outside storage. This is a clean unit with no signs of water damage current or previous or any other type of damage as well.
This is a 1 owner unit and the condition shows a well maintained unit.
Next Required Bid:
$1,775.00
Scheduled Close
10/16/2017
06:16 pm CST
Closed
2000 Flagstaff 206ST
VIN: 4X4CFS413YD046429
Reg.: RT25317
Features: This unit is a 10/12 meaning it has a 10' top with a 12' bottom (2 extra feet of storage) with access from inside or outside. It has a free standing table with 2 bench seats and storage below. It has a refrigerator and cook top which can be used inside or hung on the outside. It has 2 slide out beds queen and full size. The tent material is in very good condition with no tears, all zippers work as designed. This also comes with a furnace, plenty of cabinets for storage, and a full length awning (new).
This is a 1 owner unit and the condition shows it was well maintained.
Next Required Bid:
$4,575.00
Scheduled Close
10/16/2017
06:16 pm CST
Closed
2003 Sportsmen 3051
VIN: 4EZFS30243S082667
Reg.: TR66290 2/18
Features: This is a 30' 5th wheel trailer. It has 2 slide outs. 1st is in the front bedroom with a queen size bed and plenty of storage below, a large closet and dresser and a TV hook up. The central bath has a nice size shower with sink and vanity, linen closet and separate water closet. Stepping down into the living room and it's spacious area has a nice sofa which pulls out into a bed, a swivel rocker and stereo system. There is also TV hook up in this area. The dinning area has a nice solid wood free standing table and chair set, a full kitchen with cook top, oven, microwave, fridge and freezer, and lots of counter top.
This is a 1 owner unit and well maintained as you can see by the condition. It shows no signs of water damage current or previously repaired.
---
Inspection:
| | |
| --- | --- |
| Wed, Oct 11, 2017 | 09:00 am - 06:00 pm |
Auction Closing:
| | |
| --- | --- |
| Mon, Oct 16, 2017 | 06:15 pm |
Removal:
| | |
| --- | --- |
| Wed, Oct 18, 2017 | 09:00 am - 06:00 pm |
Bidding Increments:
Range
Increment
$0.01
-
$75.00
$1.00
$75.01
-
$150.00
$5.00
$150.01
-
$250.00
$10.00
$250.01
-
$500.00
$25.00
$500.01
-
$1,000.00
$50.00
$1,000.01
-
$5,000.00
$75.00
$5,000.01
-
$50,000.00
$100.00
$50,000.01
-
$75,000.00
$250.00
$75,000.01
-
$100,000.00
$500.00
$100,000.01
-
$2,500,000.00
$1,000.00
This auction is contracted and managed by JAX Of Benson. JAX Of Benson is the Dealer of Record for titled items in this auction (DLR37353). Mike's Guns and Sporting Goods (FFL #3-41-151-01-1H-22073) will facilitate the transfer of firearms in this sale.
This affiliate accepts cash, cashier's check, money order, bank draft, all major credit cards.
By placing a bid on this auction you are agreeing to the auction specific terms listed below in addition to K-BID user terms. For auctions contracted and managed by an Independent Affiliate, K-BID Online, Inc. is acting as a venue only and will not be involved in any disputes or issues regarding this auction.
Everything is sold "as is, where is" with no guarantees or warranties. You are responsible for inspecting items prior to purchase.
There is a 13% BUYERS PREMIUM (13% BP) on this auction. All NON-Credit/Debit Card payments MADE IN-FULL (invoiced amount) will receive a 3% Reduction in BUYERS PREMIUM (10% BP).
Applicable Minnesota Sales Tax will be collected.
At the close of the auction active items will remain open until no bids have been received for three minutes.
IMPORTANT NOTE: If the high bidder of an item does NOT acknowledge the purchase, K-BID systems reserves the right to determine how and to whom it will be resold. If we determine that the winning bid was not a bona fide bidder, the item WILL NOT AUTOMATICALLY go to the next second-highest bid.
---
K-BID Online, Inc. (K-BID) is responsible for maintaining the K-BID.com website. K-BID.com serves as the venue used by independent auction companies (Affiliates) to present their online auctions to bidders.
K-BID's role in the auctions listed on K-BID.com is limited to providing the venue for affiliate auctions. Affiliates are not employees, agents, representatives or partners of K-BID Online, Inc. K-BID's knowledge about individual auctions and individual auction transactions is limited to the information appearing on the website.
By placing a bid on K-BID.com, bidders are verifying they are at least 18 years old and acknowledging they understand and will comply with both the K-BID.com website terms and the auction specific terms. Bidders MUST NOT share their password or account information with anyone. Bidders are responsible for bids placed on their account.
In the event that bidding rights are terminated due to no-show invoices, bidders MAY be reinstated at the discretion of K-BID only after a penalty fee of 20% of the unpaid invoice(s) and a reinstatement fee of $25.00 has been paid to K-BID and a scanned copy of your driver's license emailed to us. INVOICED ITEMS WILL NOT BE AWARDED. The payment is punitive and meant to deter no-shows. Duplicate bidder accounts will be deactivated when they are determined to exist. If possible and at our discretion K-BID reserves the right to delete any bid we believe has been place by a suspect bidder. Any registration that shows up on our fraud detection system may be placed on hold and bids removed until user is verified . K-BID Online, Inc reserves the right to disallow anybody from bidding on its web site. Cases of obvious bidding with no intent to redeem will be referred to appropriate legal authorities.
Affiliates may lower a lot reserve at any time before or after an auction closes. If the reserve is lowered while the auction is in progress, the applicable reserve message will appear below the Next Required Bid information (Reserve Not Met or Reserve Has Been Met); the asset will sell to the high bidder if the lowered reserve amount is met. If the reserve is lowered after the auction closes, the highest bidder at auction close will receive a winning bidder invoice.
Once an auction begins its closing process, outbid notifications will not be sent.
1615 Minnesota Ave
Benson
MN, 56215

320-444-2303

45.3103155000

,

-95.6080690000



Shipping is available with Spee Dee. UPS, Fed Ex, USPS will be used if necessary.